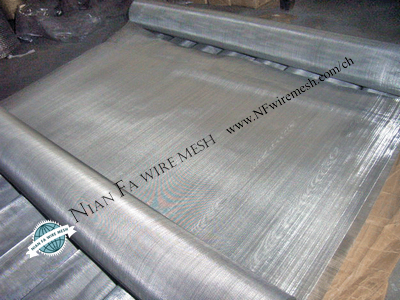 304& 316 stainless steel wire mesh
Product Name: 304& 316 stainless steel wire mesh
Model NO: NF-WM-2
Product Description :
stainless wire mesh 1)wire diameter:0.025-2mm 2)mesh:2-600 3)certificate:ISO9001:2000 4)material:201,304,304l,316,316l

HOW TO ORDER/SPECIFY
Stainless mesh filter
Our company is the major manufacture of stainless steel wire mesh,especially know as its best quality and excellent repulation.
Material: SUS202,SUS302,SUS304,SUS304L,SUS316,SUS316L
Weaving method: plain weave,twilled weave,dutch weave.
Uses : extensively used in mining,chemial industury,food industury and pharamaceutial industury.
characteristics:Acid reistance ,Alkali resistance,heat resistance,corrosion resistance
Specification:
Wire diameter: 0.025mm-2.0mm
Mesh:2mesh-600mesh
Width: 0.5m-8m
Length of standard: 30m
Any size avalible as the requiements of the customer.
packing:waterproof paper inside, plastic film outside, then pallet or wooden box.
Specification List of Stainless Steel Wire Mesh
Mesh / Inch
Wire Gauge (SWG)
Aperture (mm)
3mesh*3mesh
14
6.27
4mesh*4mesh
16
4.27
5mesh*5mesh
18
3.86
6mesh*6mesh
18
3.04
8mesh*8mesh
20
2.26
10mesh*10mesh
20
1.63
20mesh*20mesh
30
0.95
30mesh*30mesh
34
0.61
40mesh*40mesh
36
0.44
50mesh*50mesh
38
0.36
60mesh*60mesh
40
0.30
80mesh*80mesh
42
0.21
100mesh*100mesh
44
0.172
120mesh*120mesh
44
0.13
150mesh*150mesh
46
0.108
160mesh*160mesh
46
0.097
180mesh*180mesh
47
0.09
200mesh*200mesh
47
0.077
250mesh*250mesh
48
0.061
280mesh*280mesh
49
0.060
300mesh*300mesh
4
0.054
350mesh*350mesh
49
0.042
400mesh*400mesh
49
0.0385
500mesh*500mesh
50
0.0273